Here we read about the battles of the philosophers and the end result of this confusion about the true, or original, understanding of God. Ever wonder why we have so many religions today? It would appear this is nothing new; rather it's the continuation of these original philosophical battles played out thousands of years ago:

The ideal consummation of Platonic science is the arrival at the contemplation of that of which earth exhibits no express image or adequate similitude, the Supreme Prototype of all beauty, pure and uncontaminated with human intermixture of flesh or color, the Divine Original itself. To one so qualified is given the prerogative of bringing forth not mere images and shadows of virtue, but virtue itself, as having been conversant not with shadows, but with the truth; and having so brought forth and nurtured a progeny of virtue, he becomes the friend of God, and, so far as such a privilege can belong to any human being, immortal.
Socrates believed, like Heraclitus, in a Universal Reason pervading all things and all minds, and consequently revealing itself in ideas. He therefore sought truth in general opinion, and perceived in the communication of mind with mind one of the greatest prerogatives of wisdom and the most powerful means of advancement. He believed true wisdom to be an attainable idea, and that the moral convictions of the mind, those eternal instincts of temperance, conscientiousness, and justice, implanted in it by the gods, could not deceive, if rightly interpreted.
This metaphysical direction given to philosophy ended in visionary extravagance. Having assumed truth to be discoverable in thought, it proceeded to treat thoughts as truths. It thus became an idolatry of notions, which it considered either as phantoms exhaled from objects, or as portions of the divine pre-existent thought; thus creating a mythology of its own, and escaping from one thraldom only to enslave itself afresh. Theories and notions indiscriminately formed and defended are the false gods or "idols" of philosophy. For the word idolon means image, and a false mind-picture of God is as much an idol as a false wooden image of Him. Fearlessly launching into the problem of universal being, the first philosophy attempted to supply a compendious and decisive solution of every doubt. To do this, it was obliged to make the most sweeping assumptions; and as poetry had already filled the vast void between the human and the divine, by personifying its Deity as man, so philosophy bowed down before the supposed reflection of the divine image in the mind of the inquirer, who, in worshipping his own notions, had unconsciously deified himself. Nature thus was enslaved to common notions, and notions very often to words.
By the clashing of incompatible opinions, philosophy was gradually reduced to the ignominious confession of utter incapacity, and found its check or intellectual fall in skepticism. Xenophanes and Heraclitus mournfully acknowledged the unsatisfactory result of all the struggles of philosophy, in the admission of a universality of doubt; and the memorable effort of Socrates to rally the discomfited champions of truth, ended in a similar confession (Albert Pike, Morals and Dogma, 1871, p. 692-694).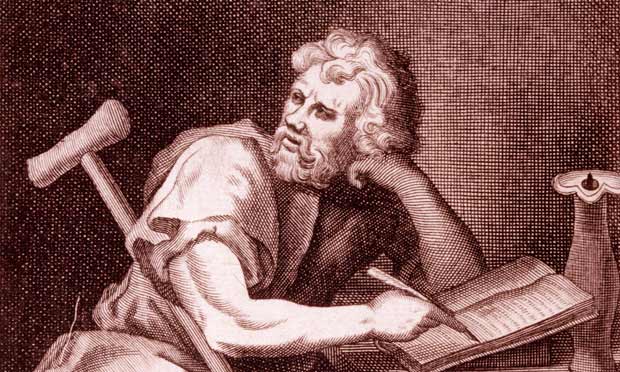 Also, if you enjoyed this blog, you might want to take a look at my other blogs, Masonry and the Three Little Pigs and Gnosismasonry, which have a variety of other Masonic topics to discover. Moreover, to get regular updates from this blog, please follow me on Facebook, Twitter or Cathedralbuilders.